Home » Resources » How to Hire a Boilermaker
Boilermakers play a key role in the industrial workforce. By helping to install and maintain various types of equipment, they play an essential part in the running of many industries.
If you need to hire a boilermaker, it can be a challenge to find one who can meet all of your specific needs for the role. That's why we've put together the following guide – to provide you with the information you need to make sure you hire the best boilermaker for your position.
Boilermaker roles and responsibilities
WHO IS A BOILERMAKER?
A boilermaker is an industrial worker who assembles, maintains, and repairs boilers, vats, and other containers that hold gasses and liquids.
The specific tasks that a boilermaker does during an average day will often vary depending on their job description and employer.
MAIN RESPONSIBILITIES
Boilermakers can be asked to complete a wide variety of tasks, including:
Installing boilers, vats, and containers in industrial facilities

Troubleshooting issues with containers and repair them

Shaping and fabricating parts

Inspecting equipment to make sure it's functioning properly

Documenting the work they do

Reading blueprints and technical documents
AVERAGE SALARY
According to the Bureau of Labor Statistics, the average annual salary for a boilermaker in the United States is $65,360. That translates to about $31.42 per hour.
However, that doesn't necessarily mean this is how much you should pay the boilermaker that you hire. Salaries in this field can vary quite a bit based on factors like the industry that you're working in.
For example, boilermakers that work in plumbing, heating, and construction make an average of $79,190 per year. But those that work in fabricated metal product manufacturing make $57,290 annually.
Location can also have a big impact on how much you should pay your boilermakers. For example, boilermakers make an average salary of $91,090 in New York but earn $61,080 in Texas.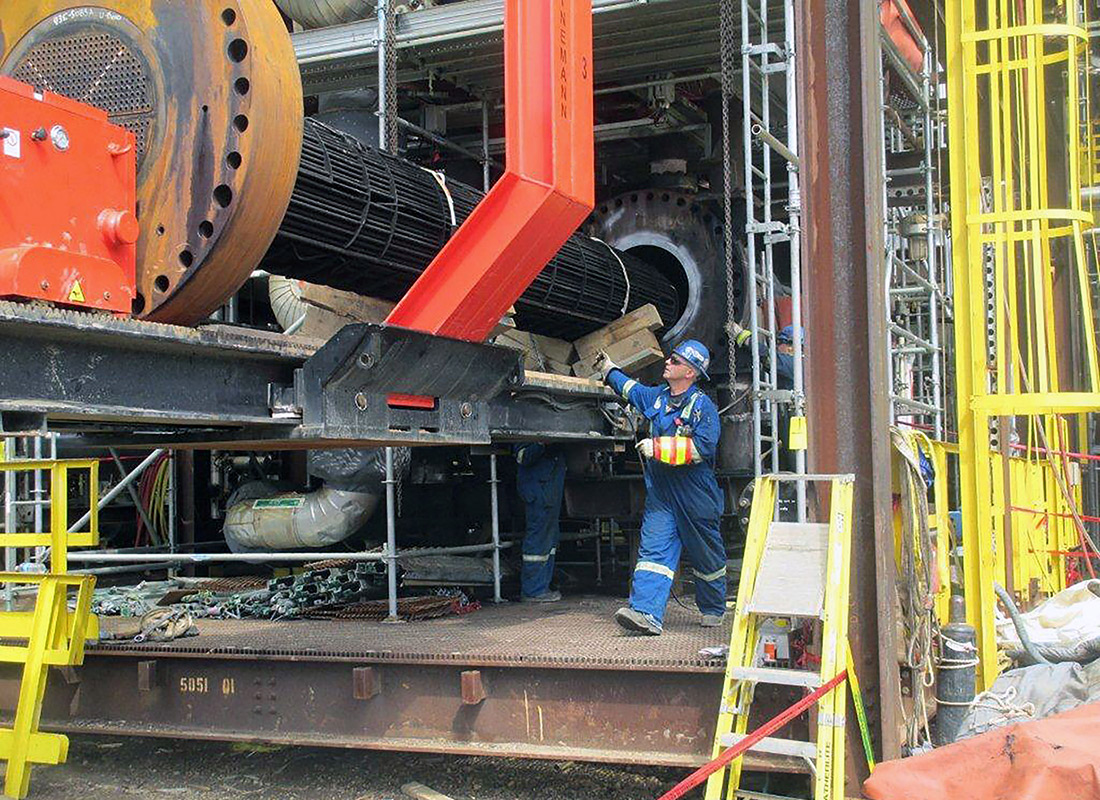 Important interview questions to ask a boilermaker
The interview can be a crucial part of the hiring process. It's your chance to get some needed context to help you determine which of your applicants is the right fit for your position.
To do that effectively, you'll usually want to tailor the questions to the specific position you're hiring for. With that in mind, here are 7 interview questions that you may want to prioritize when interviewing each of your boilermaker job candidates.
WHAT IS GAS TUNGSTEN ARC WELDING?
Asking technical questions like this is a great way to assess how well your candidates understand the basic technical knowledge required to excel in the position. 
Gas tungsten arc welding (GTAW) is a type of welding that uses non-consumable tungsten to create the weld. It's generally used to weld thin sections of stainless steel and other metals like aluminum and copper alloy.
Your candidates will likely have some familiarity with the technique since it's used commonly in the boilermaker industry. If they can't explain any aspect of it to you, it could be a sign that a candidate is going to need lots of training after you hire them.
HOW DO YOU THINK YOUR TRAINING PREPARED YOU FOR THIS POSITION?
This can be a great question for learning more information about your applicant's training process. 
The answer that the candidate provides will help you determine whether the training that they've gone through has adequately prepared them for the position.
Ideally, you want to hear your interviewees make a specific connection between their training process and this job opportunity. For example, they might say that they had a lot of hands-on training with a specific welding technique that they think they'll also use consistently in this position.
HAVE YOU EVER HAD THE OPPORTUNITY TO TRAIN SOMEONE? DESCRIBE A SPECIFIC STRATEGY YOU USED TO DO SO
Asking this question can help you figure out whether a candidate could be a good fit for a leadership role in your company one day. 
It's okay if the applicant hasn't gotten the chance to train someone — especially if you're hiring them for an entry-level position.
But if an interviewee has trained another worker in the past, it can be helpful to try to figure out how they approached the situation. Their answer will help you determine what type of leader they might one day become with your company.
WHAT TYPES OF WELDING HAVE YOU DONE IN THE PAST? WHAT SCENARIOS DO YOU THINK EACH IS BEST FOR?
This question will give you some additional insight into the specific types of welding that an applicant has done in the past — the second part will tell you how well they understand the theory behind each type of welding.
This is information that can be well worth knowing because it tells you how much thought an interviewee has put into different types of welding. If they understand when to use each type of welding, then there's a good chance that they'll consistently use the best welds for the job while working for you.
TELL ME ABOUT A DISAGREEMENT YOU'VE HAD IN A PREVIOUS ROLE – HOW DID YOU RESOLVE IT?
Asking this question can help to give you some insight into what type of coworker your applicant will be. 
While it's often natural to have disagreements with coworkers, supervisors, and employers, good coworkers are often able to successfully resolve these disputes without letting them impact their work.
Ideally, it would be great to hear your applicant describe a specific problem they've had in a previous role and how they dealt with it. One answer that you likely don't want to hear to this question is that an interviewee had a problem with a previous employer and took no steps to resolve it.
ARE YOU AFRAID OF HEIGHTS?
This is a pretty simple and self-explanatory question, but on the basis that boilermakers sometimes have to work high up in the air, it can be worth asking. If you interview someone who's afraid of heights, you'll probably want to make sure that the job you're hiring them for won't involve this type of work.
WHAT MADE YOU WANT TO BECOME A BOILERMAKER?
This is a great question to ask because it can help you to figure out an applicant's motivation for working in this industry. 
Ideally, a candidate should be able to articulate some reason for wanting to work in this field beyond earning a paycheck. If they can't, it could be a sign that the person isn't committed to remaining a boilermaker for the long term.
Boilermaker skills to look out for 
PHYSICAL STAMINA
Boilermakers often perform physically demanding work, which means that physical stamina is one of the most important traits to look for in your applicants. If an applicant doesn't have enough stamina, they may take longer to complete their tasks, which could end up costing your business more money in the long run. 
ABILITY TO WORK IN CONFINED SPACES
Boilermakers often need to work in tight, confined spaces while carrying out their tasks. If an applicant isn't willing or able to do that, then they may not be a good fit for your open position.
WELDING SKILLS
Welding can be a crucially important skill for a boilermaker. That's why it can be a good idea to make sure that you hire an applicant who is capable of welding at a high level while using a variety of techniques. If you hire someone who isn't a very good welder, then chances are they may not be the most productive candidate for the role. 
MECHANICAL PROBLEM-SOLVING
Boilermakers are often presented with mechanical problems that they need to resolve to move forward with a project. You will likely want your applicants to be able to do this themselves without needing too much guidance from others — that's why it's important to look for boilermaker job candidates with excellent mechanical problem-solving skills.
How emerging industry trends should influence your hiring process
While you go through your boilermaker hiring process, it can be a good idea to keep an eye on emerging industry trends. These can indicate what the future of boilermaking may look like and you may want to take this into account while making your hiring decisions.
For example, condensing boilers will likely become more popular in the years to come — since this style of boiler tends to not only be more efficient but also helps to reduce pollution. With this in mind, if you have the option, it may be a smart move for you to hire a candidate who has experience working with these types of boilers.
We're also seeing the healthcare industry expand rapidly in the wake of COVID-19. That means we may see more opportunities for boilermaker manufacturers and installers in the healthcare space. Hiring a candidate who has worked in this industry before could pay dividends for you down the line.
Surehand makes it easier to find skilled boilermakers
If you're serious about finding and hiring the best boilermaker for your position, then you may want to check out Surehand. Our application automatically connects you with the most qualified boilermaker candidates in your area.
Once you tell us the role and skills that you're looking for, we'll utilize our platform to provide you with a steady stream of applicants who fit that profile — until you find your next hire. 
But don't take our word for it — try Surehand today to experience the difference for yourself.
Working in the trades? Stop searching.
Get matched with skilled trades jobs HIRING NOW!