Home » Resources » How to Hire an Electrician
Electricians are one of the most in-demand professions in the world. They play an essential role in maintaining the modern utility grid and keeping homes and businesses functioning.
If you need to hire an electrician, you likely want to make sure that you use the correct process and pick the right person. This guide will help you to do that.
Keep reading to learn everything that you need to know about hiring an electrician.
The role of an electrician
WHAT DOES AN ELECTRICIAN DO?
Electricians install, maintain, repair, and replace electrical systems. They often work with wiring, fixtures, lights, mounting mechanisms, and other things that support the flow of electricity.
The specific tasks that an electrician does during an average day will depend on which niche they occupy. Some electricians spend their time troubleshooting and repairing residential and commercial electrical systems. Others work on power poles and on construction teams installing new electrical systems.
WHY IS THIS IMPORTANT?
Electricians play a very important role in modern society. When the lights go off, you usually call an electrician to get them turned back on. Electricians also build and maintain the electrical infrastructure that we all rely on to use electrical devices throughout the day.
ELECTRICIAN EDUCATION AND TRAINING
Electricians usually need to have at least either a high school diploma or the equivalent of one. However, workers in this field typically go on to pursue some type of post-secondary training after they complete their high school education.
Many electricians decide to complete apprenticeships. These are led by technical schools, unions, and other electrician organizations. They take about 4-5 years to complete and allow an aspiring electrician to learn the trade in a hands-on way by working with skilled electricians.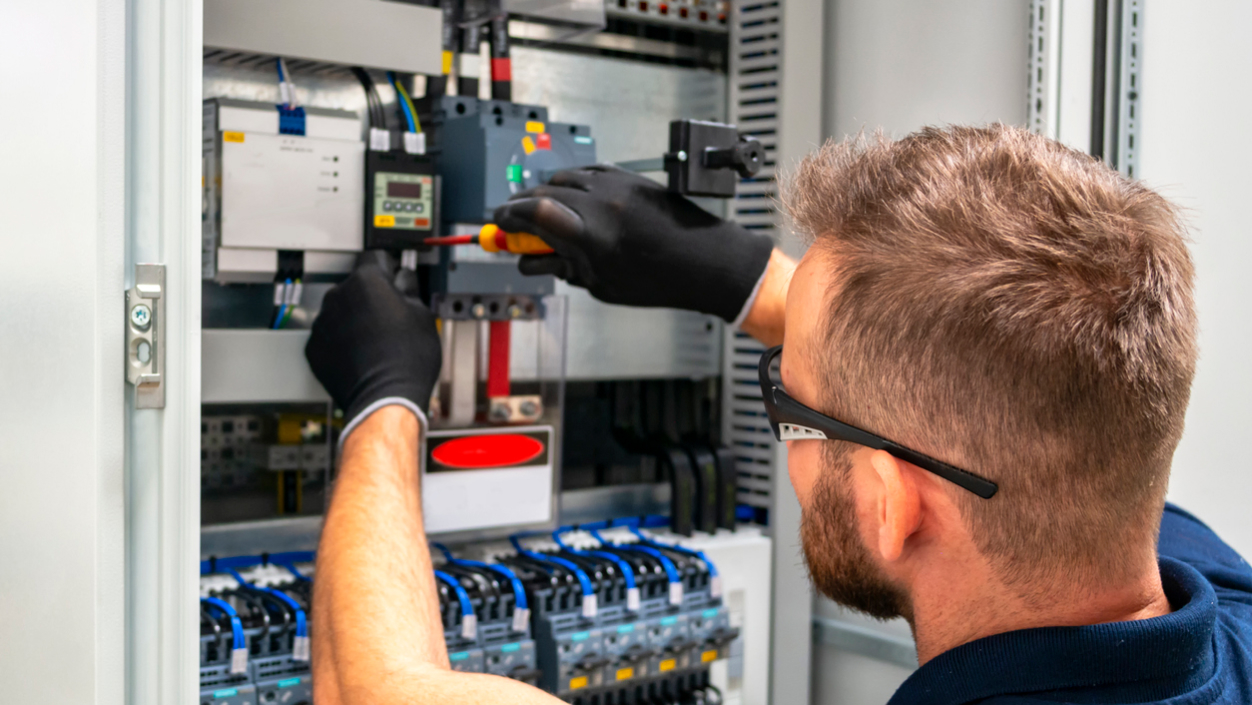 Key roles and responsibilities 
DAILY TASKS
The exact daily tasks of an electrician will vary based on the specifics of the position that they've been hired to do. However, a general list of daily tasks that you may want to use when creating the "responsibilities" section of the job advertisement might include:
Diagnose and repair electrical problems

Read technical documents and blueprints

Utilize various tools safely

Use testing devices to pinpoint the causes of various electrical issues

Work with other tradespeople to design and plan the installation of new electrical systems

Supervise the training of new electricians
WORK ENVIRONMENT
An electrician's work environment usually depends on the exact job that they've been hired to do. Inside wiremen mostly work in houses, commercial buildings, and newly-constructed homes.
But, as the name implies, outside linemen spend most of their careers outdoors. They may work on power poles, transformers, and other pieces of electrical infrastructure.
Outside linemen tend to face a more demanding work environment than interior electricians do. These outside workers have to sometimes do their job in harsh weather conditions, such as intense heat.
SALARY
The average annual salary for an electrician is $56,900, but the industry that you're hiring in will have a big impact on how much you should pay a new electrician hire. 
Electricians working for the government earn an average salary of $64,490 per year while those working in employment services make $50,110 per year.
Location can have a big impact on how much you should be paying your electricians as well. For example, electricians in California average take-home pay of $75,900 annually, while those in Florida average $45,880.
Important interview questions to ask 
The interview stage is often a critical step in your hiring process. It's an opportunity for you to put a face to the names of candidates, to gain more information about their background and skillset, and to establish whether they would be a good fit for the role. 
With that in mind, it can be helpful to ensure you ask the right questions while interviewing your applicants. Here are 8 top questions that we recommend you include in your process:
WHAT'S THE DIFFERENCE BETWEEN A BREAKER AND A FUSE?
This question will usually be basic knowledge for anyone that's applying to work as an electrician. It's often a good idea to ask your applicants questions like this just to make sure that they have the baseline level of electrical knowledge that you're looking for.
The correct answer is that both breakers and fuses are designed to interrupt the flow of electricity, but circuit breakers are the more modern method.
The more detail and depth your applicants provide, the more that you know they know what they're talking about. 
That being said, it can also be a plus if your applicants respond in a straightforward, clear way, as this can indicate they will be able to explain complex electrical topics to your clients in a way that they will understand.
DO YOU SPECIALIZE IN ANYTHING?
This is a smart question to ask if you want to get a sense of what your interviewees do best. If you're hiring for a niche area in the electrical industry, you may want to prioritize hiring candidates that have expertise in an area that's relevant to that industry. 
However, if your company does general electrical work, then it often isn't necessary for your applicants to have a true specialty.
WHY ARE YOU INTERESTED IN BEING AN ELECTRICIAN?
This question will help you assess whether a candidate has a true interest in the electrical field. If someone isn't able to indicate why they care about the industry, they may lose interest in it more easily, which could force you to make a new hire sooner than you want.
WHAT TYPE OF ELECTRICAL SYSTEMS HAVE YOU WORKED WITH IN THE PAST?
Asking this question will help you figure out the types of electrical work that an applicant already knows well and the parts that they may need further training on.
Ideally, you want to hire someone who has previously worked on electrical projects in all of the same areas that they would do for you. Since this isn't always possible, it can be helpful to establish early on what – if any – training your electrician might need to adapt to their new role.
HOW DO YOU APPROACH SAFETY WHILE WORKING?
Safety is crucial for electricians, and you likely want the person that you hire to make safety a priority to avoid putting anybody's physical health – or the financial health of your company – at risk.
Successful candidates will often talk about how they make safety a part of their daily routine. If someone can't explain how they emphasize safety to you, then it's likely because it's not a topic that they've thought much about in the past.
TELL ME ABOUT A CHALLENGE YOU'VE OVERCOME IN A SIMILAR POSITION IN THE PAST
This can be another solid question to add to your interview process. The idea behind it is to get your applicant talking about how they deal with adversity. 
An electrician's job isn't always easy – the best electricians are often able to minimize downtime from unexpected problems and come up with creative solutions to complex issues. 
If an applicant can talk convincingly about a time that they've done this in the past, then there's a good chance that they'll be able to continue doing it in the future.
WHAT SKILL DO YOU THINK MATTERS MOST FOR AN ELECTRICIAN?
This is an interesting question to ask because it helps you figure out what an applicant thinks is the most important part of an electrician's job. 
The answer that they give you will clue you into their professional values and you can use their response to see whether they align with your own or not.
WHY DID YOU LEAVE YOUR LAST JOB?
People leave their old jobs all the time. Often, it's simply a case of wanting to try new things, learn new skills, or earn more pay. However, it's usually still worth asking this question as the way that a candidate answers can reveal what their relationship with their previous employer was like.
For example, if an applicant says that they hated their boss and that's why they left, that might not be the best sign. While it could mean that the boss genuinely was hard to work with, it could also indicate that the candidate is difficult to get along with professionally.
Simplify your next electrician hire with Surehand
Finding the best electrician for your position can be quite a challenge. There's so much to consider before, during, and after the interview process, and on top of that, it can be difficult to even find enough qualified candidates to have a competitive hiring process.
That's why you should seriously consider using Surehand to hire your next electrician. We make the process incredibly easy by automatically connecting you with skilled industrial workers that meet your specifications.
Simply create an account with us and tell us what you're looking for. Then, sit back while we provide you with a steady stream of applicants who are the best fits for your position.
Why wait? Try Surehand today.
Working in the trades? Stop searching.
Get matched with skilled trades jobs HIRING NOW!